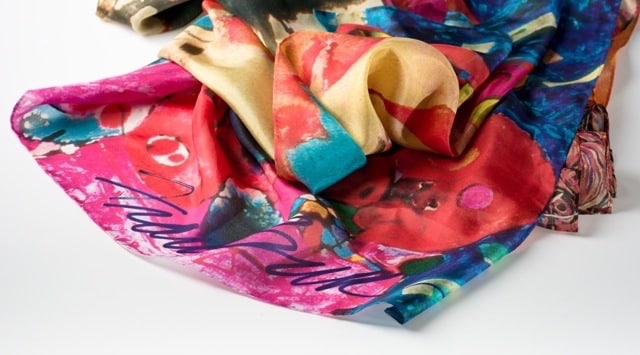 Fran Bull is a celebrated international artist who was recently invited to show her works at the 2017 Biennale of Venice, Italy. Her studio is located among the enchanting fields and mountains of Vermont. Fran has created these elegant silk scarves in limited editions of 40, based on her paintings and etchings. Available in 5 exquisite designs, these beautiful scarves were made to fly off the gallery walls and become a flowing garment you can wear. Each scarf originates in Fran's studio as a labor of love, a puzzle to solve, a journey to embark upon.
Fran Bull's scarves are an art lover's fashion statement and a beautiful, unique gift for any occasion.
Features:
Each design in a limited edition of 40
100% pure silk
Size: 39" x 58"
Colorfast
Hand-rolled hem
Wash in cold water
The scarves are $85 each, or you can purchase all 5 designs for $400.